HOLD ON THERE!!

This article is property of Trapmaniac.
If you dare editing it without permission i'll control you with fear... forever...
"
I just want to beside you, that's all...
"

—Nanayo Shinmei
Nanayo Shinmei is a mysterious spirit and Aika's neighbor. He seems like to stalk Aika for an unknown reason.
Appearance
Edit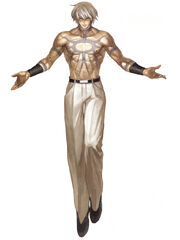 Personality
Edit
Powers and Abilities
Edit
Spirit form
Edit
Angel: Cassiel (絶対王 (カシエル) Zettaiou, lit, Absolute King)
Weapon: Wizardry
Astral Armor: Araboth (神騎霊鎧・題七 (アラボス) Shinki Reigai Dai Nana, Spirit Armor of Warrior God: 7th)
Nanayo appearance is based on Eugeo from SAO franchise.

His spirit form is based on Orochi from King Of Fighters.
He's counterpart of Origami Tobiichi.